William H. Lansing
A five year search for his final resting place - Bob Goodrich RM2 USS Lansing DER388 1962-1965
William H. Lansing was killed in action over Kiska harbor, Alaska June 11, 1942. He was plane captain
on a PBY5 Catalina in squadron VP43 flying from near Atka Island, Alaska.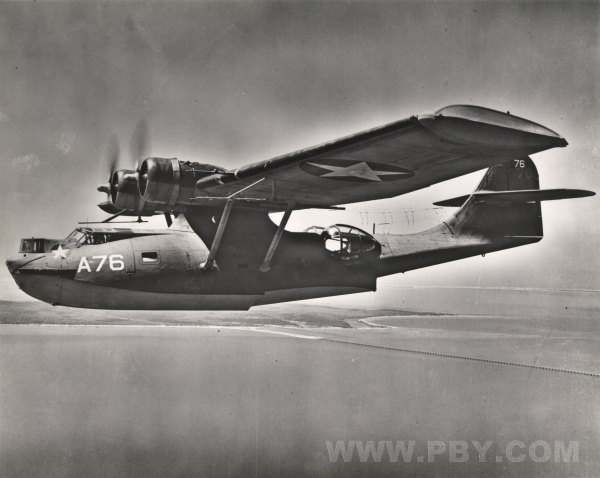 A narrative of VP43 wartime details was found on line.
The first paragraph details Lansing's death as well as Ellis J. Keith's death.
The USS Keith DE 241 was named after radioman Keith.
The pilot, Ens. Clark was able to bring the bullet riddled aircraft back to base.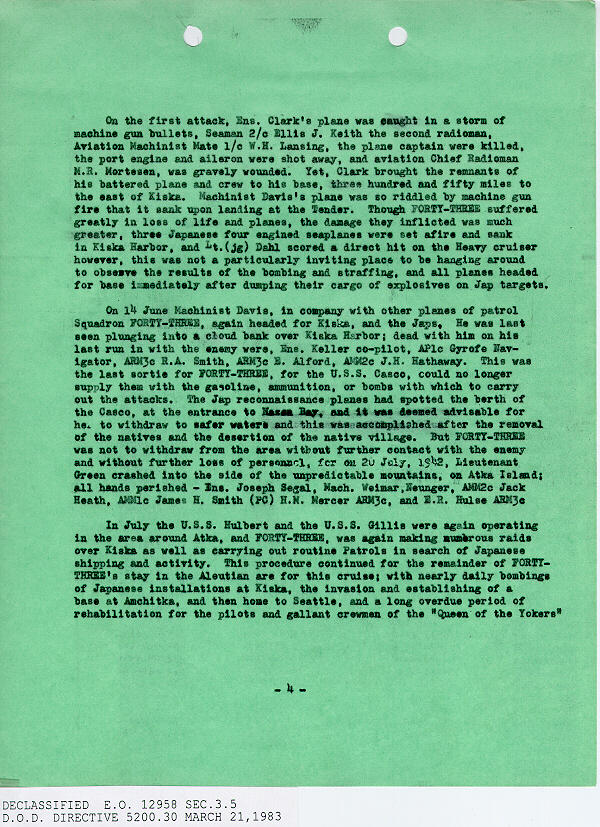 W.H. Lansing's personnel file, states he was interred locally, pending cessation of hostilities
and no additional information had been added to the personnel file.
On line searches of Atka cemeteries and messages with others communicating with Atka elders ruled
out a burial on Atka.
Lansing's widow was found in on line searches, voting records in San Bernardino, California
between 1944 - 1950. Seven cemeteries in San Bernardino were contacted with no results.
On line searches of military cemeteries came up empty.
A freedom of information request was made for an Individual Deceased Personnel File.
It turns out there is a six month waiting list. When that information arrived, it was the Rosetta stone
W.H. Lansing was buried the day after he was killed, at the Ft. Mears cemetery, Dutch Harbor, Unalaska, Alaska.
The casualties were flown to Dutch Harbor from Atka.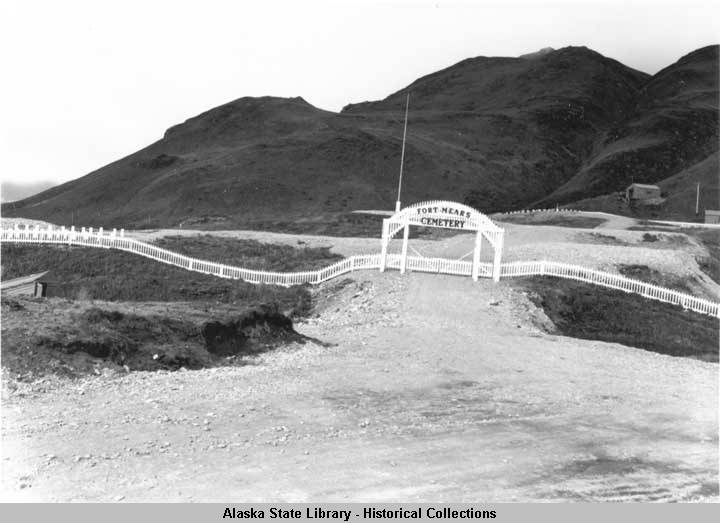 The IDPF information states:
On 12 Dec 1947 an Extract of "Request for disposition of remains" was issued.
It states that Lansing's remains be returned to Greenwood Memorial Park
43rd & Market Sts., San Diego.
On 21 July 1948, Lansing was disinterred, identification was verified and casket was
sealed, boxed and marked.
The Army Quartermaster Corp had responsibility of returning all of the WWII remains.
The record of custodial transfer shows. Lansing's remains were turned over
from Unalaska Island to the US Army Transport ship Honda Knot.
The picture below is of the USAT Honda Knot entering San Francisco about a year earlier
than Lansing's trip. No information on a 1948 trip of the Honda Knot has been found.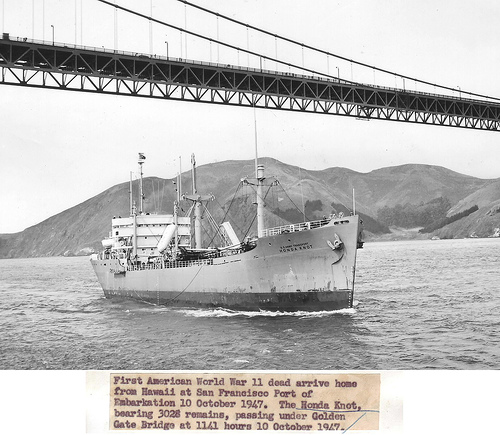 The USAT Honda Knot arrived at Ft Mason, Calif on Sept 7, 1948.
Custodial transfer to HQ SFPE, Ft Mason, Calif and on to DC13 all occurred on that
date. DC13 is the Distribution Center 13 at the Oakland Army Base.
On 6 Oct 1948 a message was sent to Greenwood Memorial Park stating the
remains of William H Lansing USN were being shipped accompanied
by Military Escort on train number Seventy Four on the AT&SF railroad due
to arrive in San Diego station at three thirty PM railroad time on 14 October.
A receipt of remains dated 14 October 1948 is signed on behalf of Greenwood
Memorial Park by Floyd L. Shaw.
There is a request (no date) for a flat Bronze Marker with a Latin cross with the inscription
WILLIAM H LANSING / CALIFORNIA / AMM1c US NAVY/ WORLD WAR II/
MARCH 7 1914 JUNE 11 1942
There is a copy of the post office label (Jan 7 - 1949)
that states the contents are a bronze marker.
and the addressee is
W.S. Clement, Supt
Greenwood Memorial Park Cemetery
PO Box 88
San Diego 12
California
On 9 Feb 1949 there is a completion stamp on the order for the flat bronze marker order