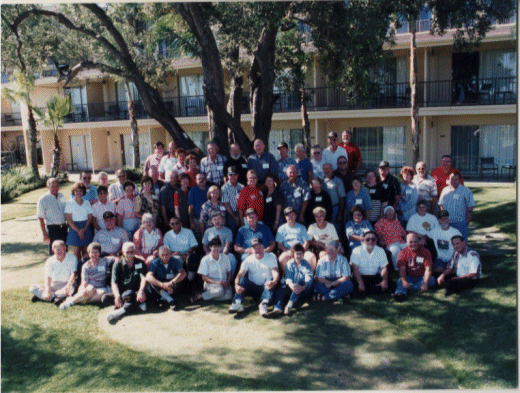 Reunion 1997 – San Diego
By Ken Hill, LCDR, USNR-R
I was talking with a friend prior to leaving for this year's reunion and he remarked that the talk would probably be about how much tougher we had it while in the Navy, as opposed to the present day sailor. I told him that I didn't think this was the case and, happily, as it turned out, I was right. There is a tendency at some reunions, be they school, family, or whatever to praise the past at the expense of the present. One of the reasons I enjoy the ship's reunions so much is that while we happily renew old friendships, there is little talk of how great the "good old days" were. But to be truthful, who could look back on a winter patrol on AA with anything but relief that we don't have to do it again?
This year's reunion in San Diego started a bit earlier than "officially" planned. While the reunion was scheduled to start on October 16, a great many of us arrived on the 15th. This permitted a somewhat more relaxed registration, and an opportunity to catch up during the evening of the 15th.
The first formal event took place on the afternoon of the 16th when we toured the USS Cowpens (CG-63), an Aegis-class Guided missile Cruiser. The Cowpens is a relatively new cruiser, having been commissioned in March 1991. I think my wife summed up the feeling very well when she remarked as we entered CIC, "this is just like the Hunt for Red October". Shipboard electronics have certainly come a long way from the Lansing days.
That evening we had the formal reception with about 75 present including former crew members, and spouses. All former crew members living in the San Diego area were invited, even if they couldn't attend the whole reunion. Harland Tompkins showed a video he had made from home movies taken while aboard the ship in the early 60's. There was also a tape taken from the USS Wilhoite (DER-397) of the Lansing pitching and rolling at sea. Fortunately no one got seasick while watching the videos.
Friday featured a tour of NAS North Island via the Old Town Trolley. Lunch was a large buffet at the Officer's Club. Once again we saw the financial advantages of service clubs, as this was probably the most reasonable lunch we had while in San Diego. That evening we had a dinner cruise aboard the M/V Spirit of San Diego while cruising San Diego Bay. Our visibility was somewhat limited as fog closed in towards the end of the cruise. Fortunately the cruise ship's surface search radar worked fine and we docked with no problems.
On Saturday we toured the San Diego Zoo, which is advertised as one of the world's finest. It certainly lived up to its billing. If you're a fan of zoos, this is a not-to-miss attraction.
On Sunday morning, the 1997 reunion closed with a buffet breakfast and a memorial service which was conducted by Jesse McDuffie for our departed shipmates.
I think all who attended will agree that this was one of our best reunions. The San Diego weather cooperated fully, as it was perfect for our entire stay. Our next muster will be October 22-23, 1998 in Charleston, SC. I urge everyone to join us there and enjoy southern hospitality at its finest.
Extracted from the USS / USCGC Lansing news letter 'Lansing Vigilance' Volume 2, Issue 2 November 1997