USS LANSING DER 388
DUTCH HARBOR, UNALASKA, ALASKA
ALEUTIAN ISLANDS
September 7 & 8, 1963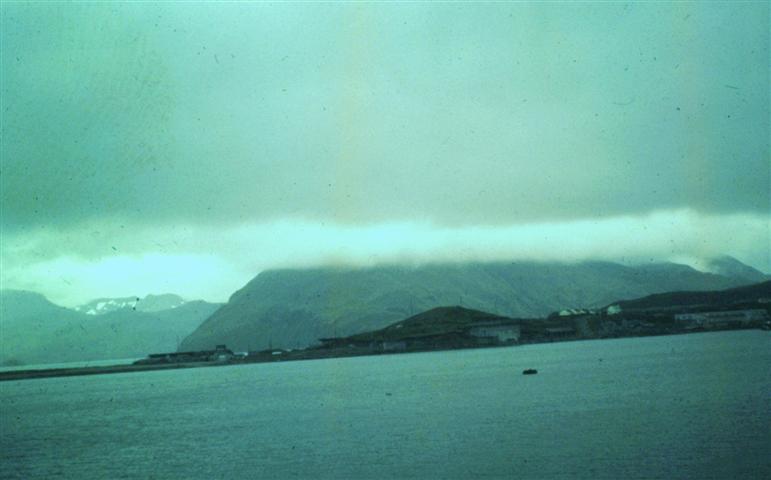 Lansing approaching the Navy pier at Dutch Harbor. The Navy pier is
on Amaknak Island. There were two families living on all of Amaknak Island.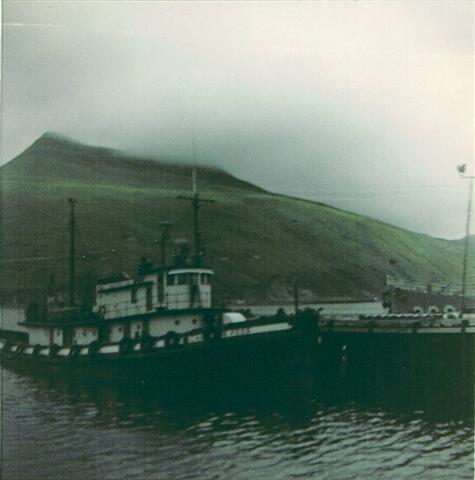 Lansing moored to the Standard Oil fuel barge and the Navy pier in Dutch Harbor.
Tug is Christine Foss, other vessels present; Alaska Trader and Lynda
Mount Ballyhoo in the background.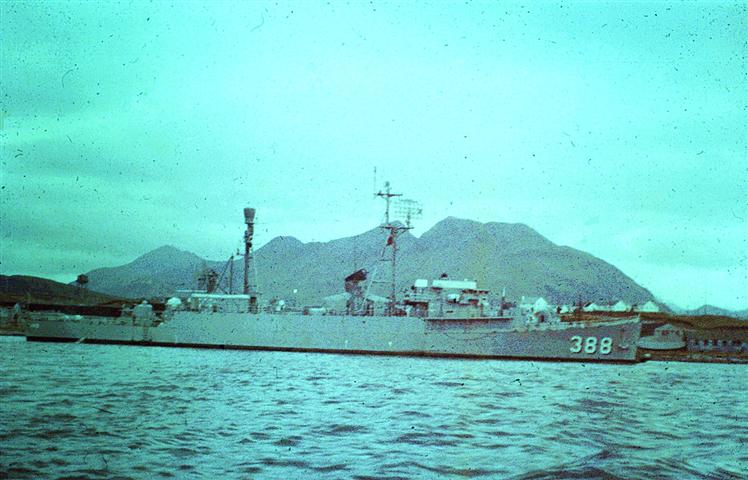 >


Lansing at fuel pier, Dutch Harbor

Between 0800 and 1700, 60,000 gallons of diesel fuel received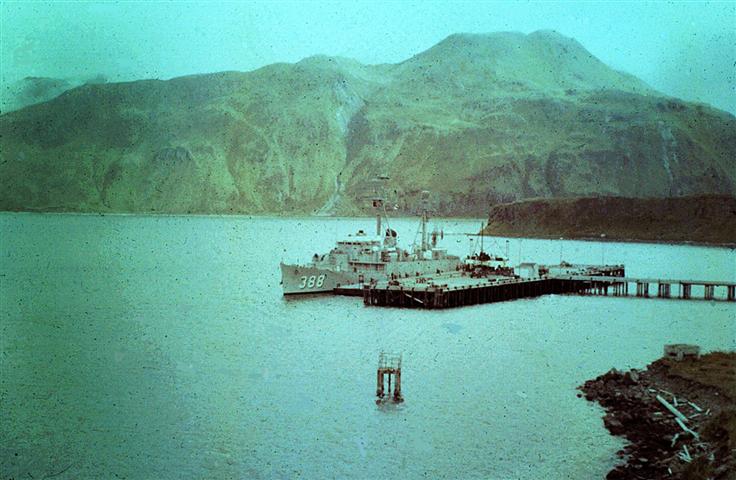 Standard Oil fuel barge and Navy pier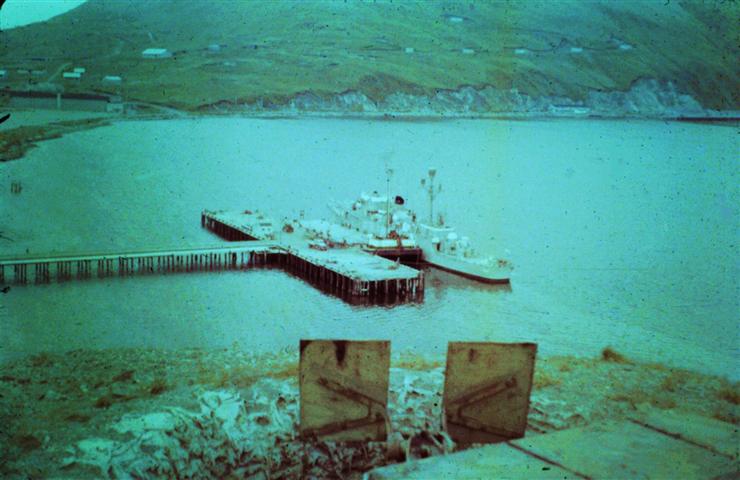 Abandoned WWII 20 MM gun shields in foreground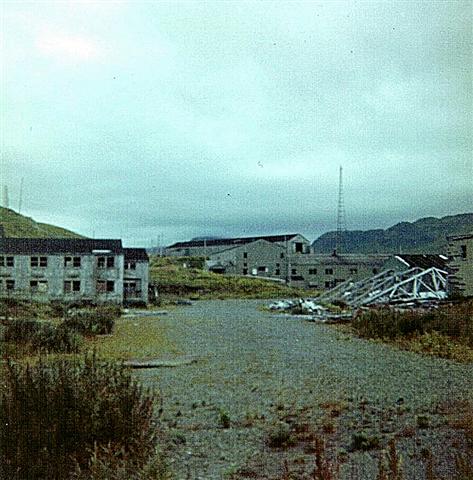 At the foot of the pier is the Dutch Harbor Naval Operating Base.
Decommissioned in 1947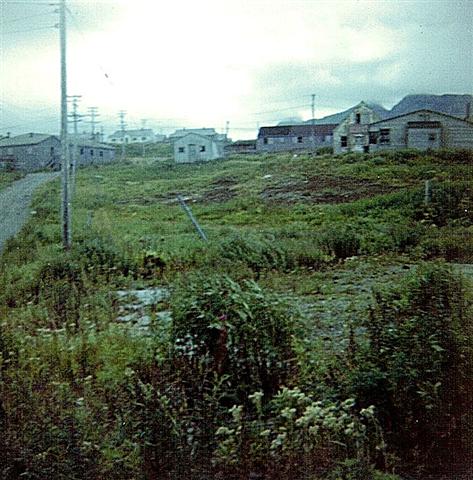 Abandoned Dutch Harbor Naval Operating Base.
60,000 troups were stationed here during WWII.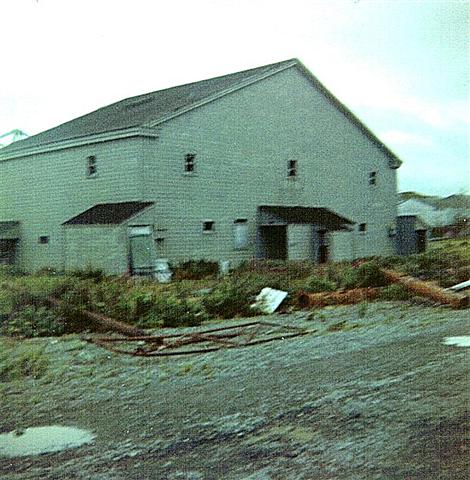 The old base theater.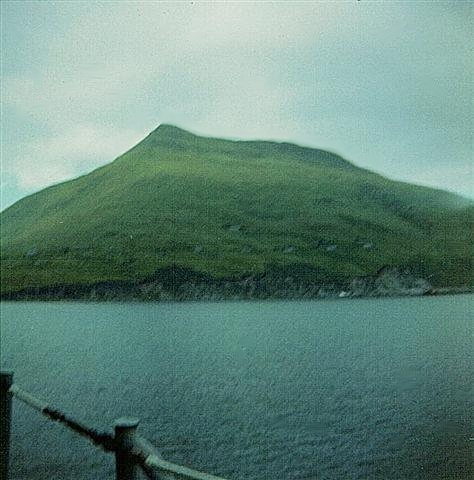 Mount Ballyhoo - The small gray rectangles on the side of the mountain are WWII gun emplacements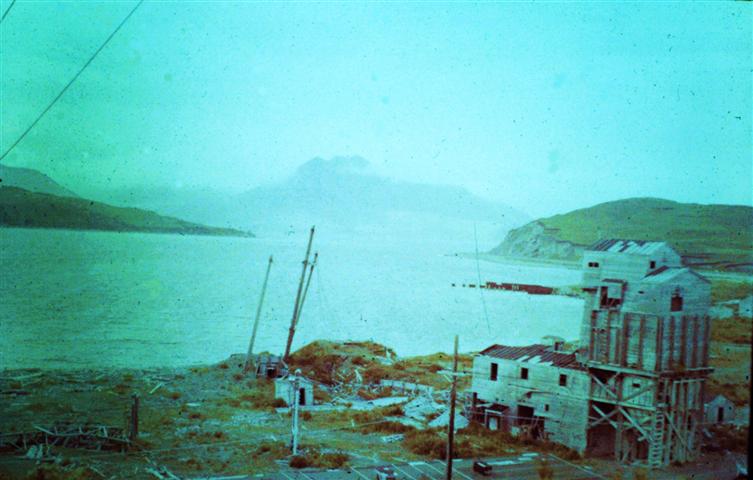 Abandoned Navy Base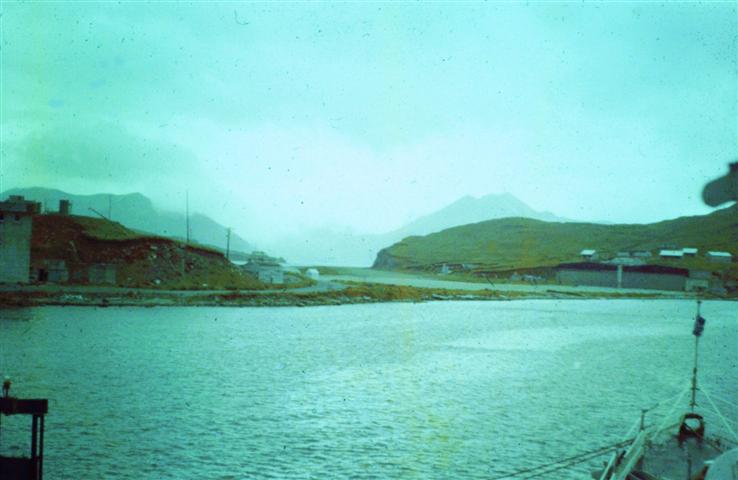 Dutch Harbor airport. Runway carved out at the foot of Mt Ballyhoo.
Reeve Aleutian Airlines flies in twice a week weather permitting,
they landed a DC-3 during our stay. Lansing placed outgoing US Mail
on the aircraft.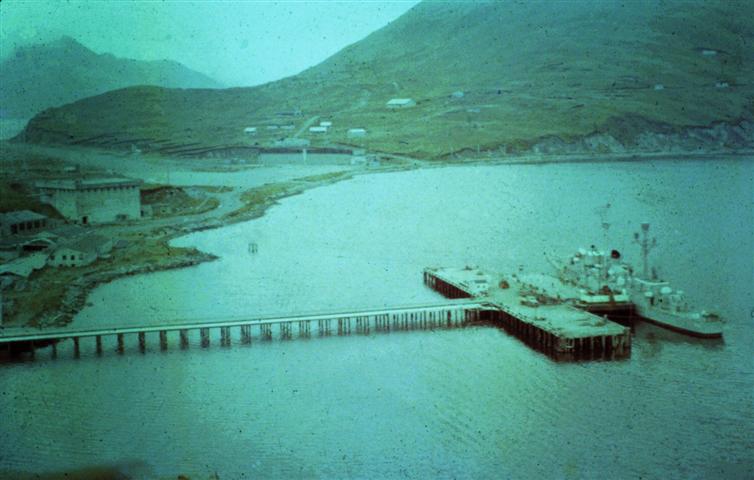 Airport runway visible at base of Mt Ballyhoo.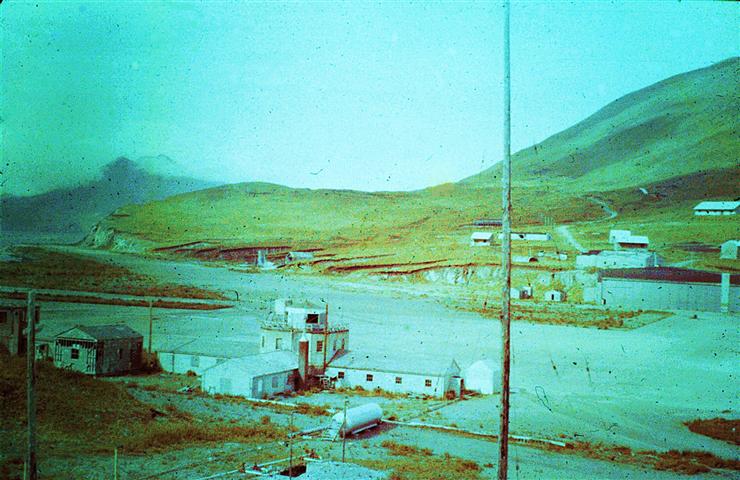 Dutch Harbor airport.
Control tower, hangars and sea plane ramp.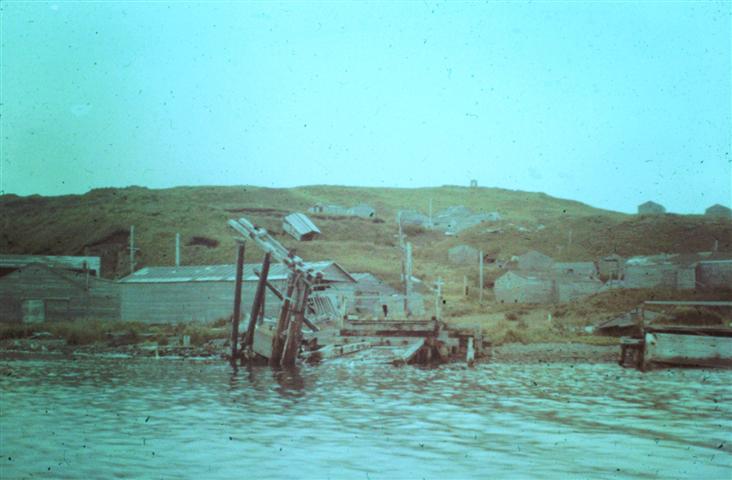 Ferry landing in disrepair.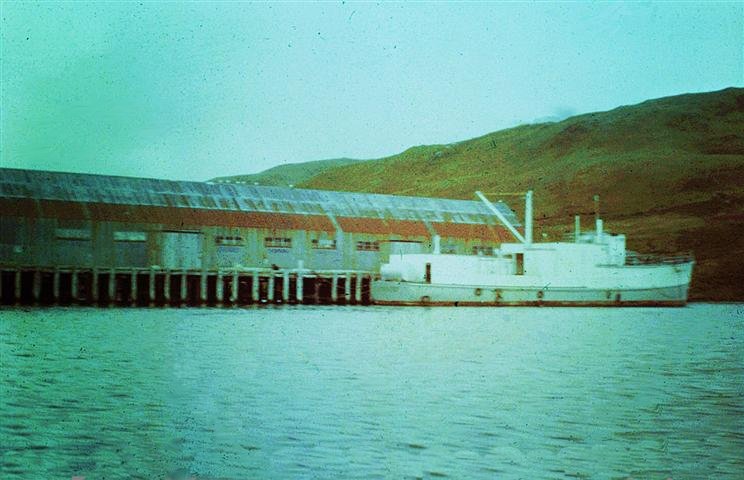 Ex-USN YMS being used for spoilage alongside
seafood processing plant pier.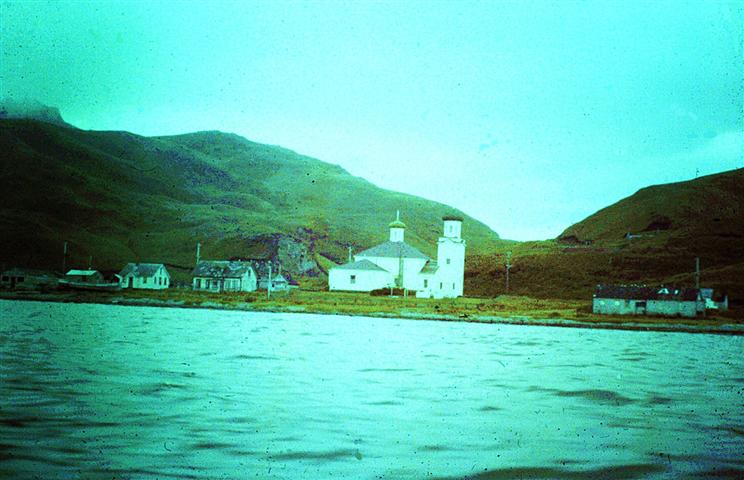 Approaching the town of Unalaska. Unalaska is about
a mile and a half by boat from the Dutch Harbor fuel pier.
Russian Orthodox church at center of photo.
Unalaska had two general stores, Carl's and Pop's.
Motion pictures were shown frequently in a quonset hut.
Alcoholic beverages were not for sale, the area being dry.
Approximately 100 buldings in town.
Population 180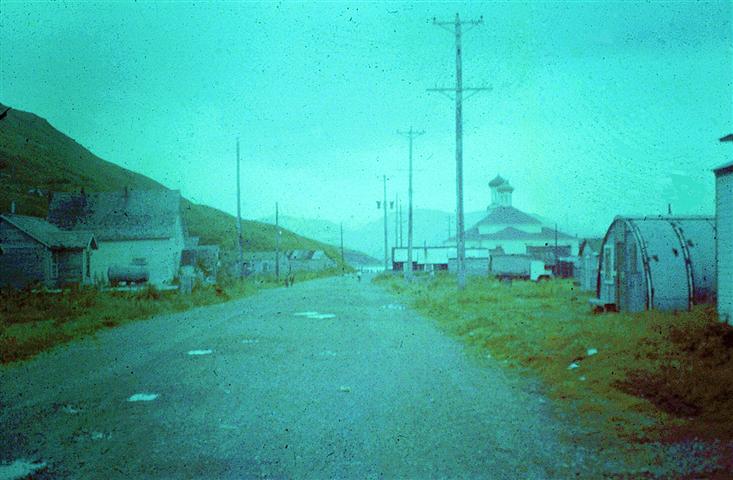 Main street of Unalaska.
Now known as W. Broadway Avenue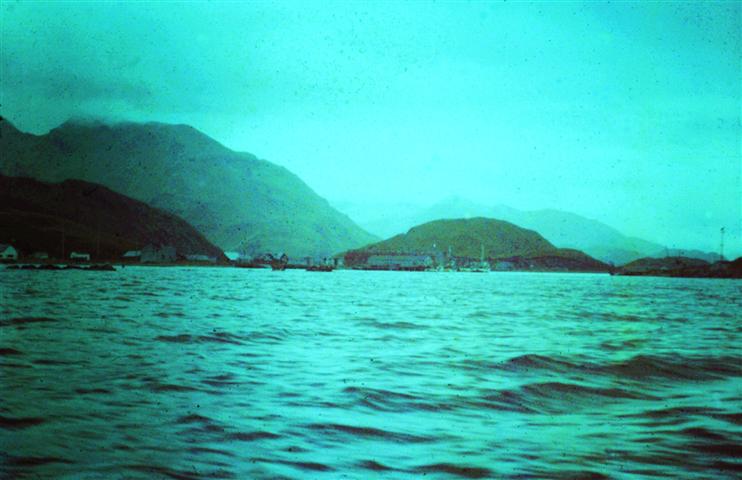 Departing Dutch Harbor, headed for Adak.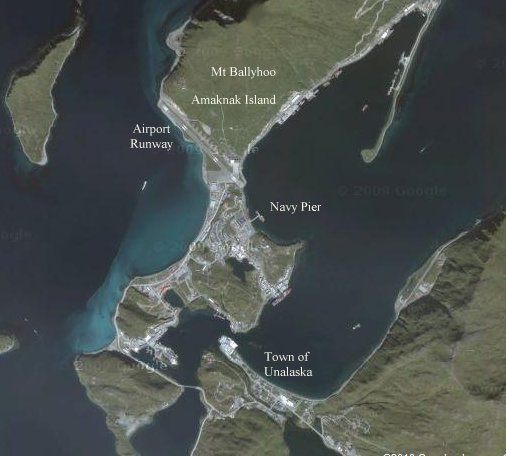 Current map courtesy Google maps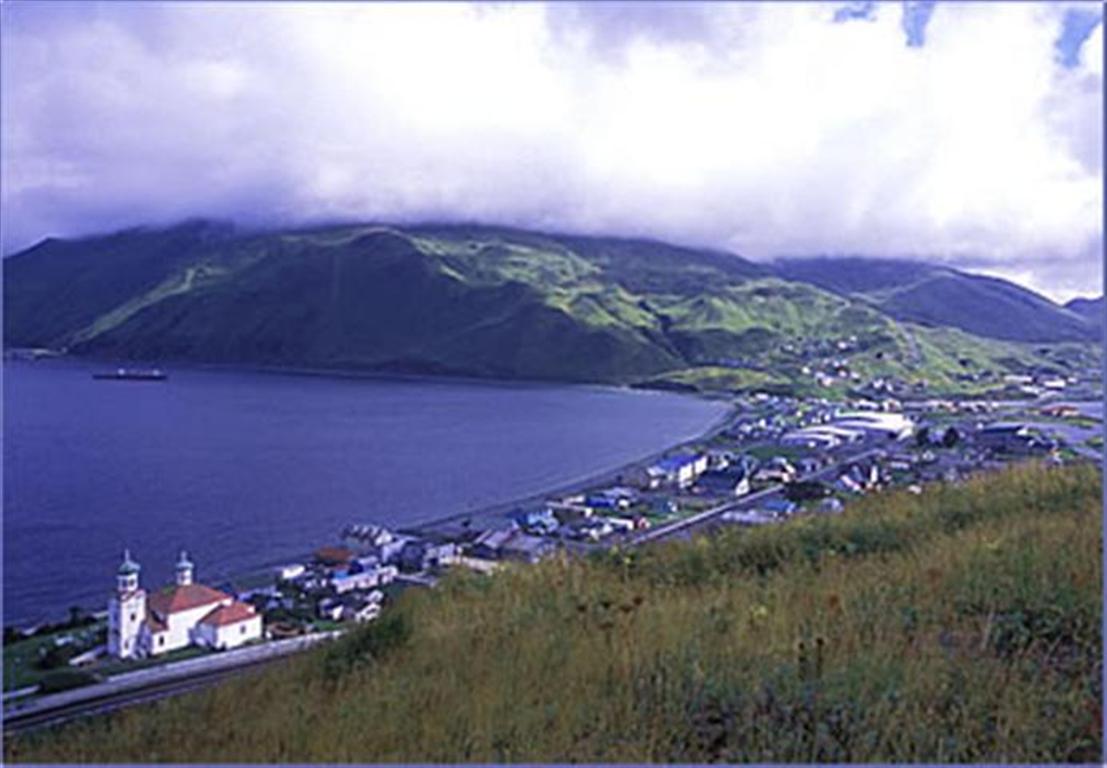 Unalaska today.
Photo credit: Peter Metcalfe / Alaska Marine Highway System